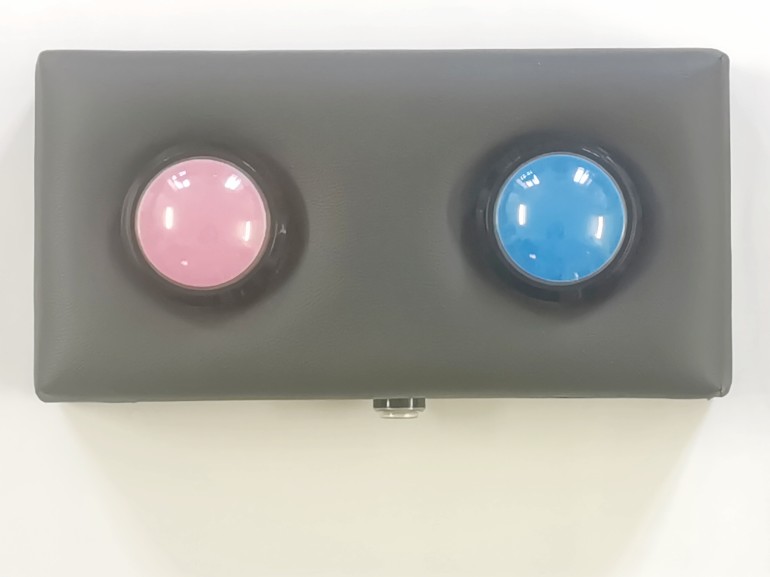 Pink vs Blue
Gal Mortier, Paris
2022
Interactive Laser projection,
Computer, bumpers, speakers.
Variable size.
Pink vs Blue est une installation interactive inspirée des bornes d'arcades des années 90. Deux bumpers l'un rose l'autre bleu permettent à deux concurrents de s'opposer dans un bras de fer réinterprété.
Il s'agit d'une version réadaptée d'un jeux que l'artiste avait programmé sur Amstrad 6128 en 1989. Référence au Machinima iconique Red vs Blue et au film Over the Top, le combat ici évolue et s'adapte aux valeurs et codes contemporains. Pink vs Blue s'enrichit à chaque présentation d'épreuves variées s'éloignant peu à peu du bras de fer initial. Pink vs Blue utilise un projecteur laser issu de l'imagerie vectorielle, contre pied volontaire au pixel et à l'image bitmap.
Pink vs Blue is an interactive installation inspired by arcade terminals from the 90s. Two switches, one pink the other blue allow two competitors to oppose each other in a reinterpreted arm wrestling.
This is a reinterpreted version of a game that the artist had programmed on Amstrad 6128 in 1989. Reference to the iconic Machinima Red vs Blue and to the movie Over the Top, the fight here evolves and adapts to contemporary values and codes. Pink vs Blue is enriched with each presentation of various events moving away little by little from the initial arm wrestling. Pink vs Blue uses a laser projector derived from vector imagery, as opposed to pixels and bitmap image.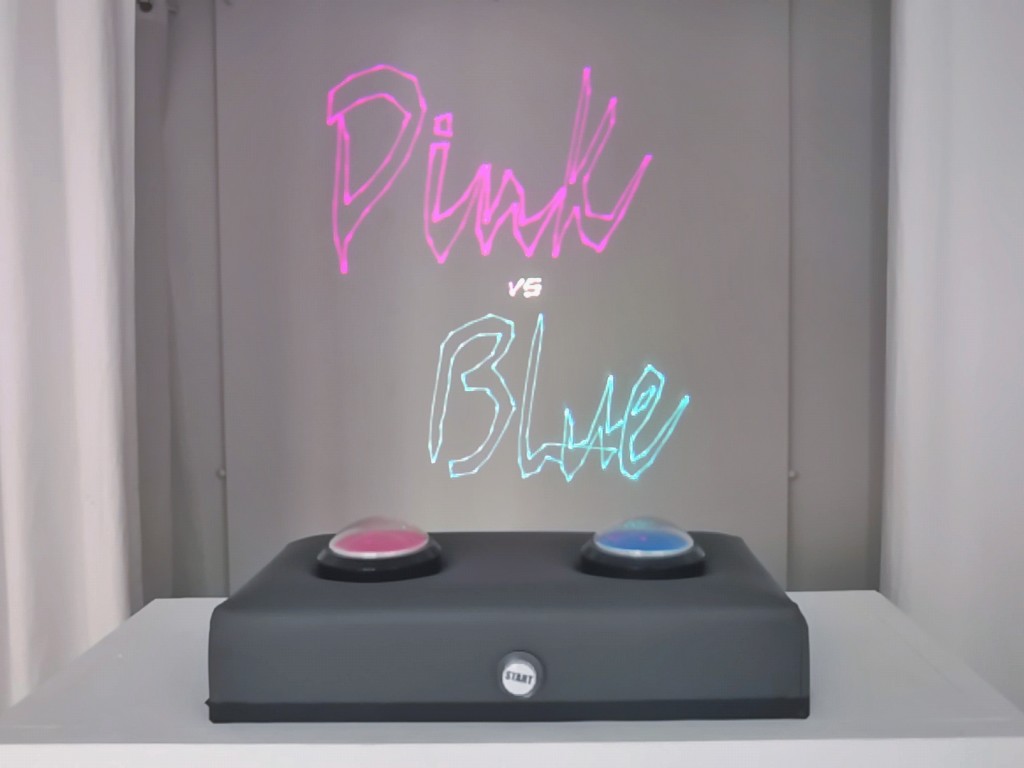 Pink vs Blue Indoor at Galerie-s Mortier, Paris 2022
Music credit:
Perret and Kingsley
Adieu Aru
Also exhibit :
-Saint Ex, Reims, 2022
-Nuit Blanche, Charleville, 2022
-Nuit Blanche, Paris, 2022
-Ososphère, Strasbourg, 2022
-Gal Mortier-s, Paris, 2022
-Wild Project, Jacques M, Montreuil 2021
-Eniarof, FAN, Rosny sous Bois, 2021